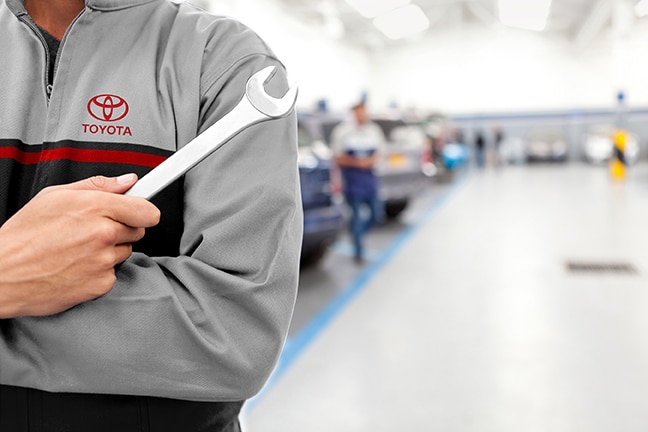 Precise engineering, thoughtful features, and undeniable style are just some of the reasons we love the Toyota car lineup. To ensure your vehicle stays in top shape, we invite you to visit the Tom Wood Toyota service center for routine maintenance and repairs. In the unfortunate event of an accident, our collision center will have your back. Learn more about what sets these two aspects of our dealership apart.?
Our Toyota Service Center
Our service center is prepared for all of your routine needs and occasional repairs. Our technicians are highly-trained with skills and experience to perform the necessary tasks for your Toyota 4Runner to run like new. Oil changes, brake replacement, tire rotation, and battery maintenance are just a few of the services that we handle regularly. While Toyota parts are meant to last, certain components will need to be repaired or replaced eventually as a result of natural wear and tear. At our dealership, we use exclusively original equipment manufacturer (OEM) parts for top quality. These parts are made specifically for your make and model rather than aftermarket options, which are "one size fits all" and are often less effective.
Our Toyota Collision Center
At our collision center, it is our goal to get you back on the road as soon as possible. Our Toyota body shop is prepared to fix any issues that result from an accident including dents, frame damage, paint, and glass repair. We also provide towing, rental, and quick services for your convenience. When you visit our 47,000-square foot building, you'll find a comfortable lounge with coffee, Wi-Fi, and crisp bottled water. To get an estimate, head to our website.
For more information, give us a call or stop by! Find the latest lineup, pre-owned models, and unbeatable customer care at Tom Wood Toyota Indianapolis.