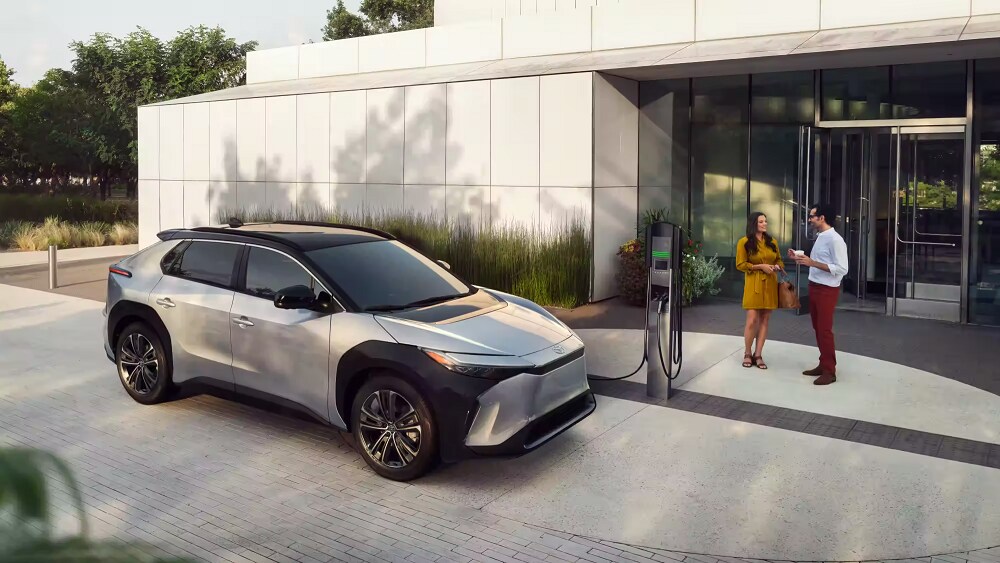 The original innovator of eco-friendly vehicles, the 2023 Toyota bZ4X continues to expand this carmaker's definition of fuel-efficient models. This sleek SUV feels like the future both on the inside and out, with an impressive collection of features and thoughtful design details.
The 2023 Toyota bZ4X represents Toyota's new "beyond zero" emissions goal, or "bZ". The "4" within this car's name symbolizes the vehicle's size, which has the same dimensions as the Toyota RAV4. The "X" describes the body style of this SUV in Toyota's new naming conventions.
Tom Wood Toyota is ready to interpret all the aspects of this thrilling new Toyota SUV. Visit our dealership to take a 2023 Toyota bZ4X for a test drive and learn more about available state and federal incentives. Now is a great time for an all-electric vehicle with Tom Wood Toyota.
2023 Toyota bZ4X Performance
Choose either front- or all-wheel drive with the 2023 Toyota bZ4x model. This SUV achieves an estimated 250 miles of battery range on a full charge. This vehicle is available in either single-motor or dual-motor configurations producing either 201 horsepower or 214 horsepower.
2023 Toyota bZ4X Exterior
The head-turning exterior design of this SUV looks striking and new. The futuristic design features sharp angles and a longer, lower profile than the similar Toyota RAV4.
This model is the first to integrate the e-TNGA platform for innovative architecture. The 2023 Toyota bZ4X features a battery placed low within the vehicle's chassis to provide an even more spacious cabin. This battery placement also contributes to grounded, steady steering.
2023 Toyota bZ4X Interior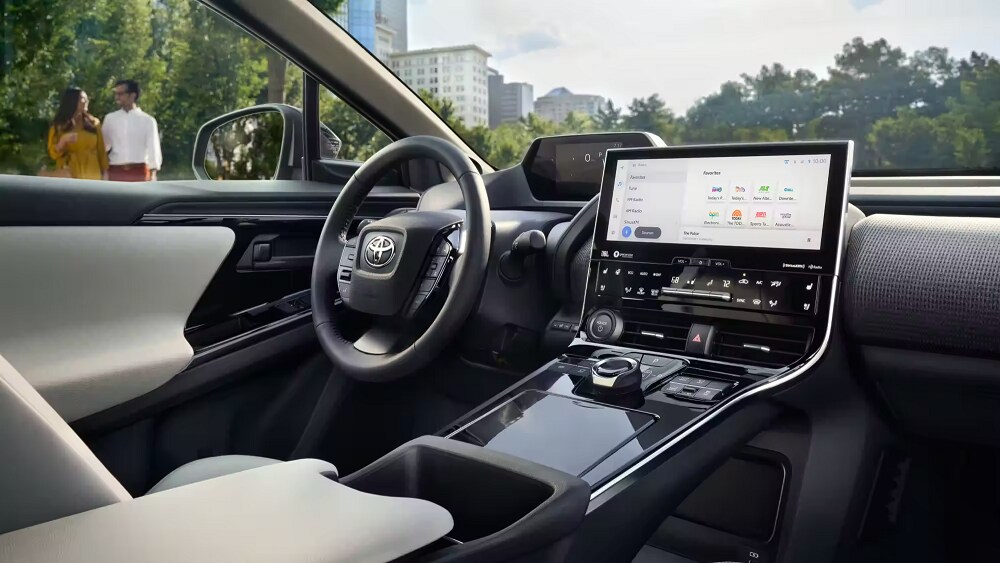 It's not just the battery placement that makes these new Toyota cars feel roomy. A panoramic glass roof is standard and expands the interior. Become one with the passing scenery with the 2023 Toyota bZ4X's spectacularly quiet and peaceful cabin.
The instrument panel and infotainment system offer a higher position and sleek design to improve visibility and convenience for drivers. This vehicle received the brand-new suite of Toyota Safety Sense features, now with settings like Low-Light Cyclist Detection.
See this futuristic SUV for yourself at our Toyota dealership near Indianapolis. Learn more about this cutting-edge technology and explore Toyota certified special offers.